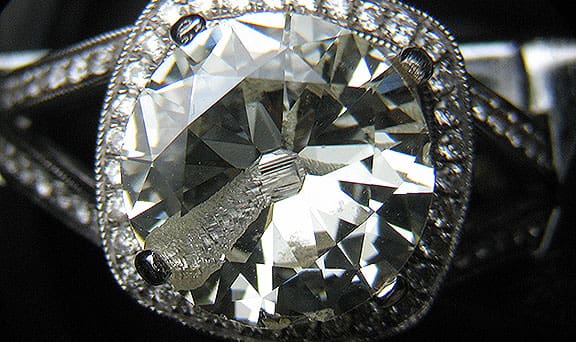 Course Syllabus: Registered Gemologist Appraiser Diploma Program
(Free preview available at the top of the course list lower on this page.)
Course is Currently Available to United States Students Only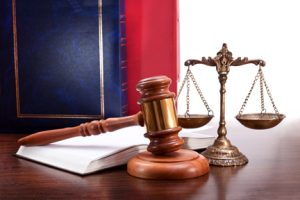 Overview:
The Registered Gemologist Appraiser Diploma program includes the full diploma program in gemology and jewelry appraisal. This program was designed and produced by state licensed insurance underwriters, adjusters, and litigation managers specializing in high value jewelry claims and insurance. The course sections cover the topics of gemology and then the Evaluating Damaged Jewelry and Personal Property Appraisal sections developed after many years of litigation experience. All of our courses have been certified by various state departments of insurance and are based on actual case history of insurance claims in the United States and around the world. There is no other course like this on the market. The RGA program is recognized by the National Association of Jewelry Appraisers and prepares the student for a professional career in the lucrative field of jewelry appraisal and litigation expert. The ISG offers certified courses, trained instructors with the industry's highest credentials, and a program that has been listed as one of the top gemological education organizations by many industry leaders.
No dues and no memberships required.
Hand's On Practical Experience with Gemstones and Diamonds You Keep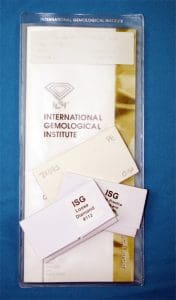 The ISG makes every effort to make affordable gemology education available around the world. Currently there are major issues with getting gemstones and diamonds sent and returned to most countries. When it is possible to send to some countries, the increased cost in shipping and customs duties has made sending practical packages virtually impossible. As a result we offer the following two systems by which we can provide all students with hand's-on practice in gem identification that will help you reach a professional level as a gemologist.
20 StudyGem Reference Set plus Certified Diamonds Included with your Registered Gemologist Appraiser enrollment
Each Registered Gemologist Appraiser Diploma student will receive a 20 Gemstone StudyGem Reference Set plus two certified diamonds for your hand's-on study and practice.
These include 20 of the most often seen gemstones on the market, and includes natural and created diamonds. Varieties vary by availability.
These are sent to you to use for your hand's-on practice and study. They are not for return. They are yours to keep.
International Students: Be aware that you are responsible for all import duties and fees. The ISG is not responsible for any customs duties or fees for sets sent to you. In the event your StudyGem Reference Set is returned to us, you will incur an additional fee to reship the set to you.
Gem Equipment Package $1995.00
Gemology testing tools are required to complete this program. You are welcome to already own your equipment or purchase where ever you wish. For those interested, the ISG has created a special Gem Equipment Package of professional quality gem testing tools that are all you need to complete this course and get started professionally. As seen at left, this package contains the following tools:
Gemological Microscope
Polariscope with conoscope
Refractometer with polarizing filter
Calcite Dichroscope
Diffraction Grating Spectroscope
10x Triplet Jeweler's Loupe
Chelsea filter
Special: We now provide a digital mm gauge for more accurate measurements.
All of this is included in this specially priced gem testing package sold only to ISG students. Professional quality at a low total price to help you get started with your professional study and last long into your career. All of our ISG course notes are produced using the tools you see above. Click the Gem Equipment Package Image to visit the StudyGems.pro website to order.
Final Exam
20 Gemstone Final Exam
The Final Exam for the Gemology Section is the 20 Gemstone Final where a 100% grade is required on the identification of 20 gemstones.
Once you complete the order form, the first attempt at the Final Exam is at no charge.
The Final Exam includes 20 colored gemstones sent to a proctor designated by you in advance.
Once you complete the identification you will submit your completed identification form and return it and the gemstones to the ISG for grading.
Once you pass the Final Exam…
Once you have successfully completed your 20 Gemstone Final Exam, you will continue to the Appraisal section. Once you complete that section and your Appraisal Final Exam of appraising two jewelry pieces, you will also be listed in the Registry of Gemologists and Appraisers in the Global Claims Associates website to be presented to the international insurance industry.
If you do not pass the Final Exam…
In the event that you do not achieve the 100% grade on the identification of the gemstones, you may retake the 20 Gemstone Final at a fee of US$75.00 for each future retake. You may retake the Final Exam as many times as required with each retake incurring the US$75.00 fee.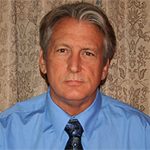 Instructor:
Your instructor is Robert James FGA, GG. Mr. James is a Fellow of the Gemmological Association of Great Britain, Graduate Gemologist of the Gemological Institute of America, and former Certified Gemologist of the American Gem Society. He is a state licensed Property and Casualty Insurance Adjuster with 50 years of experience in jewelry related litigation and expert witness work in the United States and Europe. He has served as an expert witness and litigation consultant in U.S. State and Federal Courts, as well as the United Kingdom. He holds a Business Law Certification from Cornell Law School and is a former Senior Gemologist and Special Investigations Unit (SIU) investigator with USAA insurance.
Instructor Email Contact: studentinquiry@schoolofgemology.com
Instructor Phone Contact: (001) 210-464-1473
Student Registration Agreement:
Registration Period. The Registered Gemologist Appraiser program registration is for a period of 6 months from the date of complete registration. Failure to complete the course in the allotted time voids the registration. Time extensions may be available for a fee based on availability as determined by the ISG office.
International Students: Since jewelry insurance world-wide is based on British Maritime Insurance Laws, our program is recognized and accepted world wide. We have years of experience in the professional insurance field that extends to all continents.
Right of Cancellation. The Student has the right to cancel this agreement within 3 days (72 hours) of start date of registration, based on the laws of the State of Texas, USA and the elements of this agreement. The Gem Equipment packages (if purchased) will be shipped after this three (3) day grace period. By submitting this Student Registration Agreement, the Student agrees to this and the limitations set forth in this agreement. The Student further agrees to not make any attempt to create a credit card charge back after this 3 day time limit. The student will have access to the written course notes sections in order that a full evaluation of the course material can be made during the initial 3 day time period. Full refunds will be given to anyone who requests same within this 3 day review period based on the above. Anyone experiencing extenuating circumstances may call the ISG office and we will work with you whenever possible.
Maintain Services. The ISG agrees to provide the courses in a 24 hour internet based format, and to provide all due diligence in maintaining the website services, course quality, timely customer service, and support for The Student. ISG office hours will be 0900 until 1400 hrs CST Monday through Friday. The ISG makes every effort to insure that our program is as mobile friendly and responsive as possible, but limitations beyond our control still exist due to the many different formats on the internet. If your anticipated study format will not operate with Flash, you may have restricted access to the Quick Quizzes (practice quizzes). If this becomes a problem we can make the Quick Quizzes available to you in printed format for a fee.
Program Items . The ISG reserves the right to alter the items listed in any program offerings at any time based on availability of gemstones and gemological equipment. In the event that an item is added or removed from a special offer, that change will be published in advance of the change whenever possible. However, the ISG reserves the right to make changes and substitutions of equal or greater value if the availability of certain items becomes limited.
Hold Harmless. The Student agrees to hold harmless the ISG and all employees for loss of service due to internet service provider problems, Acts of God, Acts of War, criminal acts against the website by hackers, and any other problems resulting in loss of access to the ISG internet courses that are beyond the direct control of the ISG.
Respect of Copyrights. The Student agrees that the ISG course materials are copyrighted by the ISG, and further agrees to not copy, publish, or otherwise disseminate the ISG course materials for any reason other than their own personal study and reference.
Professional Conduct Code. The Student agrees to conduct themselves in a professional and courteous manner at all times when dealing with other students and ISG staff members. This includes, but is not limited to, emails, forums board participation, and phone calls. Violations of the professional conduct agreement may lead to temporary or permanent suspension at the discretion of the ISG.
Legal Jurisdiction. The International School of Gemology is registered in Bexar County, Texas, USA. It is agreed that all parties will abide by the laws of the State of Texas in all matters relating to this agreement. In the case of any dispute, the legal jurisdiction of resolution shall be Bexar County, Texas.
By submitting your ISG Student Registration Tuition Payment with your information, you acknowledge and agree to the above Student Agreement form and agree to abide by the conditions of registration as set forth.
How to Begin:
When you pay for this course using any credit card or your account on PayPal you will be able to start immediately. You can also use our new STRIPE Credit Card Payment Gateway.
SSL Secure Payments can be made through STRIPE or PayPal using any credit card, or PayPal card using the PayPal payment system. You do not need to have a PayPal Account to use your credit card through PayPal. Please follow these steps carefully.:

Click on the BUY NOW button on the upper right side of this page.
The payment gateway will take you to the Stripe and PayPal payment system icons. PayPal uses either a PayPal account or you can use other credit cards with PayPal without having a PayPal Account. Stripe will accept virtually any credit card in the world.
Once you receive payment confirmation you will be brought back to your course to begin or to the Gemology.pro website. Either way, go to the course home page to begin. You can also access the course page through your Profile Page available at your user name in the top right corner of the home page.
Once you have returned to the course home page click the Start the Course button to begin.
Once complete you will be sent your digital Registered Gemologist Appraiser Diploma via email on PDF. US students can request a printed copy.
Section 1
History of Diamonds
Section 3
Diamond Formation
Section 4
Classification of Diamonds
Section 5
Diamond Properties
Section 6
The Critical Angle
Section 7
Diamond Cut Grading
Section 8
Cut Grading Practice
Section 9
Diamond Color Grading
Section 10
Color Grading Practice
Section 11
Diamond Clarity Grading
Section 12
Clarity Grading Practice
Section 13
Introduction to Colored Gemstones
Section 14
Gemstone Properties
Section 15
Crystal Systems
Section 16
Isomorphous Replacement Series Gemstones
Section 17
Gemstone Phenomena
Section 18
Grading Gemstone Color
Section 19
Grading Gemstone Cut
Section 20
Gemstone Clarity Grading
Section 21
Individual Gemstone Study A - E
Section 22
Individual Gemstone Study F - N
Section 23
Individual Gemstone Study O - S
Section 24
Individual Gemstone Study T - Z
Section 25
Introduction to Created and Treated Gemstones
Section 26
Flame-Fusion Gemstone Creation
Section 27
Hydrothermal Creation Method
Section 28
Flux Melt Method
Section 29
Pulled Creation Method
Section 30
Skull Melt Method
Section 31
Identifying Created Gemstones
Section 32
Created Gemstones A - C
Section 33
Created Gemstones D - O
Section 34
Created Gemstones R - Z
Section 35
Introduction to Gemstone Treatments
Section 36
Treated Gemstones A - G
Section 37
Treated Gemstones H - S
Section 38
Treated Gemstones T - Z
Section 39
Introduction to Gemology Tools and Techniques
Section 44
Jeweler's Loupe
Section 48
Specific Gravity
Section 50
Advanced Testing Tools
Section 51
Hand's On Practical Options
Section 52
Gemology Section Final Exam
Section 53
Evaluating Damaged Jewelry
Section 54
Terms and Definitions
Section 55
Cause of Loss -v- Fault of Loss
Section 56
Inherent and Pre-Existing Conditions
Section 57
The Evaluation Process
Section 58
Failure to Maintain - Wear and Tear
Section 59
Manufacturing Defect - Faulty Workmanship
Section 60
Insurance Fraud
Section 61
Catastrophic Damage and Salvage
Section 62
Personal Property Appraisal
Section 63
Terms and Definitions
Section 64
Your Legal Responsibilities
Section 65
Establishing Your Appraisal Service
Section 66
Professional Fees
Section 67
Promoting Your Services
Section 68
Understanding the Insurance Policy
Section 69
Appraisal of Personal Property
Section 70
Evaluation and Documentation
Section 71
Insurance Replacement Values
Section 72
Estate and Probate Appraisal
Section 73
Divorce and Bankruptcy
Section 74
Donation and Charity
Section 75
Hypothetical and Consumer Verification
Section 76
Mediation and Arbitration
Section 77
Office Security
Section 78
Appraiser Resources