Certificate
70% of quiz marks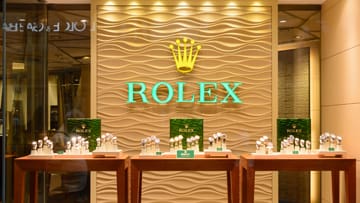 Certified Watch Professional
The ISG Certified Watch Professional course is an excellent education in the professional field of fine watches. This course starts with an overview of the history of watches. It then provides an understanding of the various types of watches including the historical mechanical movement, and the latest quartz type movements. It discusses the most famous names in watches and stories about the watch companies. It offers an overview of the potential employment opportunities available to a watch professional. A free preview of this course is available below.
The course consists of 6 lessons with many high-quality images, videos, and demonstrations to help the student get the highest level of education as a Certified Watch Professional. 
Completion of this course awards the student the title of Certified Watch Professional, and a Certificate of Completion and Badge are provided for printing upon completion of the course materials and examinations.
Course is available in multiple languages, please contact the ISG for any questions.
Please follow these steps to begin your path as a Certified Watch Professional:
Tuition: US$145.00
Certificate of Completion: Yes. You will receive your digital Certified Watch Professional Certificate of Completion and your Certified Watch Professional Badge on PDF via email within 5 days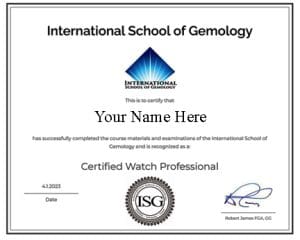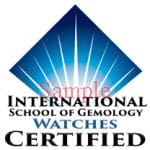 How to Begin:
When you pay for this course using any credit card or your account on PayPal you will be able to start immediately. You may also use our new Stripe Credit Card payment system.
SSL Secure Payments can be made through PayPal using any credit card or PayPal card using the PayPal payment system. You do not need to have a PayPal Account to use your credit card through PayPal. Please follow these steps carefully.:

Click on the BUY NOW button on the upper right side of this page.
The payment gateway will take you through the PayPal payment system. PayPal uses either a PayPal account or you can use other credit cards with PayPal without having a PayPal Account.
Once you receive payment confirmation you will be brought back to your course to begin or to the Gemology.pro website. Either way, go to the course home page to begin. You can also access the course page through your Profile Page available at your user name in the top right corner of the home page.
Once you have returned to the course home page click the Start the Course button to begin.
When you complete your course, go to your Profile Page by clicking your username in the top right corner of the website page.
Go to the Certificates and Badges section.
You will print your Certified Watch Professional Certificate of Completion and save your Certified Watch Professional Badge
Section 1
Introduction to Watches
Free Preview
Introduction to Watches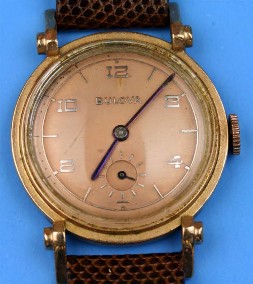 The purpose of this course is to provide you with an introduction into the world of watches. We will look at a brief history of watches starting in the early 1800s, all the way through to the current technology of watchmaking. We hope that this course will serve as a portal to those interested in working in the watch industry as a professional, and as an information source for those pursuing a career in jewelry appraisal. There are many avenues you can take within the watch industry. These include selling watches in a fine jewelry store, representing a watch company as a sales account manager, or working in the exciting field of watch repair. But whether you are seeking a career in the watch industry, or simply want to learn more about watches, this course is intended for you.
Before we start talking about the specific styles of watch movements, let us talk about the history of watches.
A Brief History of Watches
Mechanical Watches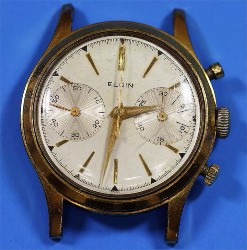 From the early 1800s until around 1960, watches operated based on mechanical movements. A watch movement is a well-organized collection of wheels, springs, and shafts that all work together to create a system that operates at a very specific rate, allowing for accurate time keeping. We will go into detail in the next chapter, but for now you should know that until 1957, watches were made from parts that were required to all work together to create a specific movement at a specific rate to mark a specific amount of time. The time was displayed using spinning hands that moved around the numbers on the dial. This type of display is known as an analog display.
Around 1957 the industry began a transformation. The use of mechanical movements had served the watch industry well for hundreds of years. But as the electronics industry developed, ways were found to denote the passage of time that were both more accurate, and more cost effective, than the traditional mechanical watch movement. In 1957 the Hamilton Watch Company introduced the first battery powered watch that used the reserve of a battery rather than the tension of a spring to operate the watch movement. However, this watch still used gears to operate but would serve as a stepping stone to the first completely electrical watch.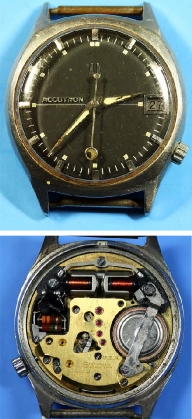 Bulova Accutron
In 1960, the Bulova Watch Company introduced the first all-electric watch called the Accutron. But unlike the traditional mechanical movements that had been in watches for several hundred years, the Bulova Accutron worked by sending an electric current into a tuning fork, which caused the fork to vibrate at a rate of 360 vibrations per second. By creating an electrical circuit that could count these vibrations, the circuit could make the hands of the watch move one second for every 360 vibrations it registered from the tuning fork.
This transformed the watch industry because it was no longer required that watches have mechanical movements that had to be wound to run, now you had a watch that could run on a watch battery. It was more accurate than a mechanical watch and created the path for the next generation of watches known as the quartz watch.
Bulova Accutron
The Bulova Accutron ran on the tuning fork vibrations being used to separate time, based on the number of vibrations per second.
Quartz Movements
In 1969, the Seiko Corporation introduced the first quartz watch to the Japanese market. Unlike the Accutron that ran by vibrations of a metal tuning fork, the Seiko Quartz watch used a new technology involving a quartz crystal.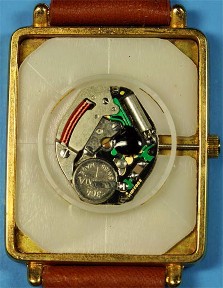 The main reason for the change was accuracy. The key element was that the higher the number of vibrations per second, the more accurate the watch movement operates. And while the metal tuning fork of the Bulova Accutron vibrated at 360 times per second, the Seiko Quartz crystal vibrated at 8,192 precise vibrations per second. This allowed the Seiko Quartz watch to be far more accurate in time keeping.
In 1971, Seiko introduced the quartz watch to the US market and the history of watches and watch making forever changed. The new generation quartz movements vibrated at a constant rate of 32,768 per second. This allowed Seiko to make a watch that was accurate to within a few seconds a year which was a far reach from most mechanical watches that could only be made accurate to within a few seconds a day.
But the transitions within the watch industry were not done yet. There was still a lot happening at other companies.
Hamilton Pulsar
In 1970, the Hamilton Watch Company introduced the Pulsar watch. Named for a newly discovered type of star known as neutron stars and named pulsars. This star is a collapsed remnant of a giant star that spins very rapidly and emits radiation waves at very, very accurate intervals. Since this type of star was discovered while the Pulsar watch was being developed, that name was given to the watch by the Hamilton Watch Co.
The difference in this watch was not just the new quartz time system. The difference was that this was the first time the traditional time display done with moving hands, known as an analog display, was not used. Instead, a new form of time display was used known as the LED display, or light emitting diode display.
As you can see above, the LED display showed actual numbers generated in red diodes. This required the wearer to push a button to be able to see the time. This had two adverse effects which caused this design to be short lived on the watch market.
First was the fact that you had to have one hand free to be able to see the time display. The button had to be pushed to display the time, so if you had your hands full you could not simply look down and see what the time was, as you could with the traditional analog display. This caused significant push back from consumers from a marketing stand point. But that was not the only problem.
The second problem was that the batteries were expensive. And everyone was so excited to show off their new Pulsar watch that they were constantly pushing the button to show to their friends, or simply play for their own entertainment. The result was that the Pulsars became known as real battery eaters. And on some occasions I had customers come in for a new battery only a day or two after the old one was replaced because they ran it down showing it off to their friends.
This made the LED readout very quickly become obsolete and paved the way for the next generation in watch display, the LCD.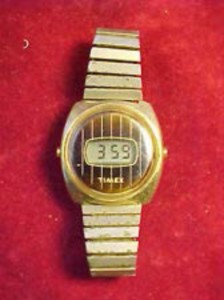 LCD Displays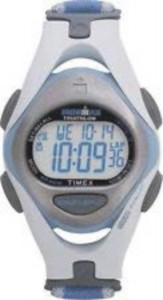 Able to display constantly, and using much less battery power, the LCD or liquid crystal diode display was developed. You can see the Timex Indiglo watch at lower left. This was just one of many hundreds of styles and brands of watches that adopted the quartz movement and LCD readout to provide accurate and cost-effective time keeping.
Plus, as the technology increased, watches began offering additional amenities such as built-in calculators, jogging meters, calendars, and even a small LCD television screen that Seiko developed in
the 1970s. And shortly afterward, Texas Instruments introduced a quartz watch on the market that sold for $20.00, an unheard-of price at the time because most of the original Pulsars were selling in the US$400.00 to $600.00 range. But the technological advancement of circuit boards, that is making things smaller and smaller, allowed TI to mass produce these new types of watches to the point that the cost could be brought down so that just about anyone who wanted one could afford one.
Today, names like Casio, Swatch and Timex produce quality quartz watches that sell for as little as
$9.95. But the story does not end here,
Luxury Watches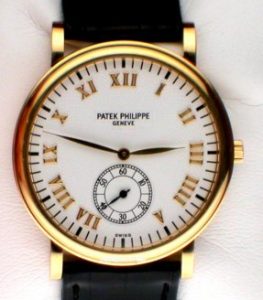 While the production of watches has undergone dramatic changes, a few things have remained the same. While we have talked about the mechanical advancements of the watch movements into circuits and readouts, there is another aspect of watches that goes beyond mere descriptions of crystal vibrations and diodes. That is the workmanship that, for hundreds of years, has gone into making a fine quality time piece. Names like Jaeger le Coultre, Patek Philippe, and many others.
Watches have a reputation for fine quality and workmanship that goes beyond simply being able to tell time. These watches demonstrate an age-old craftsmanship that has been handed down from generation to generation. While some do use modern and advanced quartz technology, many still use the same hand-made mechanical movements that made them famous and valuable.
That is why we present this course and where we start this course. It would be far too easy to simply
give you a listing of the terms and definitions, describe the technical aspects, and send you on your way, but we would miss the most important part of watches, the wonder of watches. The reason why people forgo a highly accurate $100.00 quartz watch so they can own a $6,000.00 Rolex mechanical watch. There must be something more to watches than just wheels and crystals, batteries, and readouts.
That is what we are going to learn. But first, you do need to know the terms and definitions. Otherwise, we are going to start talking about Incabloc movements, lugs, crowns and more, and you will not know what we are talking about. So, I urge you to take time and carefully read the next lesson on Terms and Definitions before going on to Lesson 3. It will help you more than I can tell you, both now and in your future career in watches.
©2023 International School of Gemology. ALL RIGHTS RESERVED. No copying, duplication or distribution allowed without expressed written consent by the ISG or YourGemologist LLC.
Section 2
Watch Terms and Definitions
Section 3
Mechanical Watches
Section 5
Stories of the Watch Companies
Section 6
Watch Professional Careers